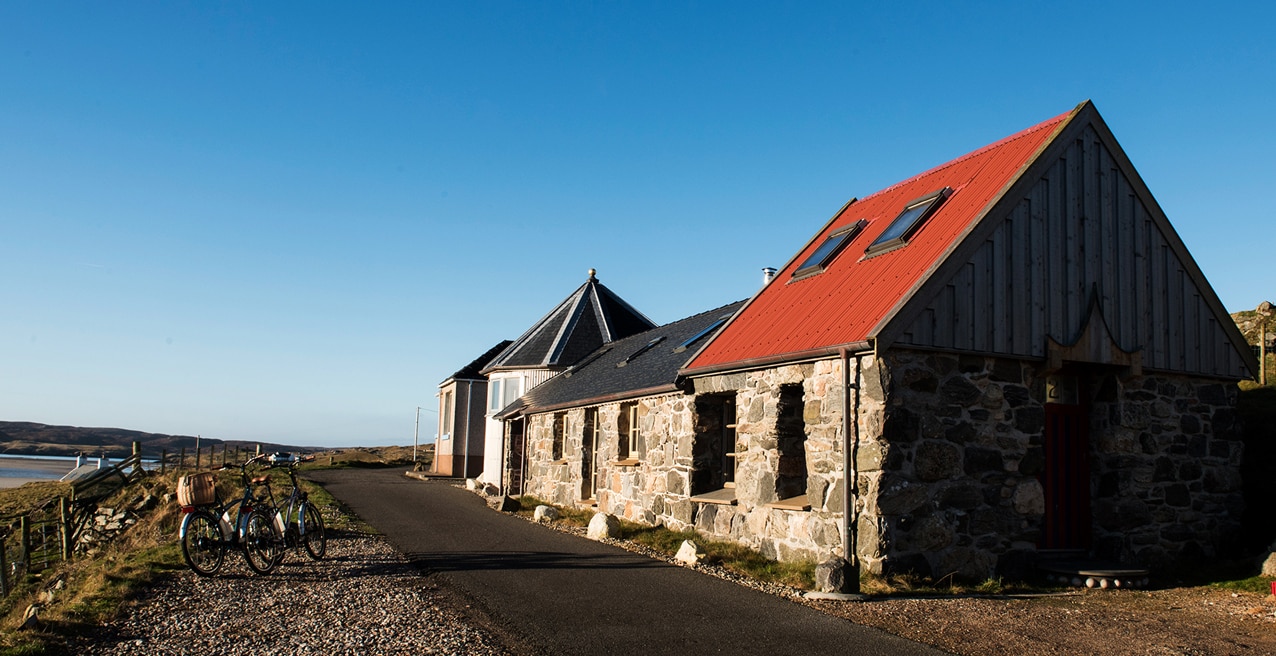 The Byre comprises one bedroom, a hall, a bathroom, an open plan living area with a conventional kitchen, and a studio cum coat & boot area. The use of two electric bikes is included as part of the booking.
The Byre is unsuitable for children.
Well-behaved dogs are welcome by prior arrangement.
It has taken four years to renovate Timsgarry Byre involving pretty much a complete ground up rebuild. It has taken so long because we're pernickety, slow and determined to complete to a high standard rather than down to a budget.
Externally the house is stone built with corrugated aluminium cladding to the bedroom with slate and corrugated roofs. Designed in conjunction with local award-winning architect Stuart Bagshaw, we have tried to keep the original layout as much as possible – the main byre with extensions to either end having varying roof heights and pitches, finished both in slate and corrugated iron.
The bulk of the work has been undertaken by Uig men and the result is a credit to the unsung capabilities of local craftsmen. My hobby is woodwork and I'm responsible for the oak finishing and cupboards.
The building is kept warm by an environmentally friendly air source heat pump and underfloor heating. Facing south, there is plenty of sunlight and, as the house is very well insulated, the heating doesn't come on much out-with the winter months.
In winter months, days are short and we have paid particular attention to the lighting, mostly low voltage efficient LED lights with tiny LED up-lighters to each window.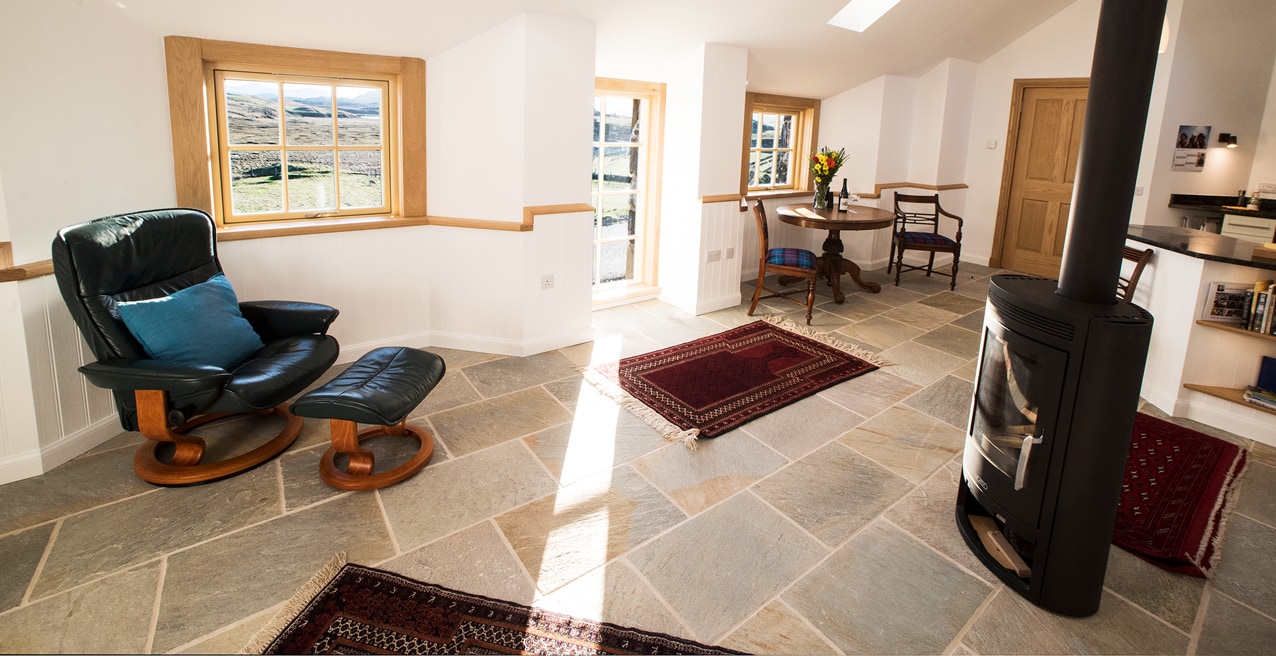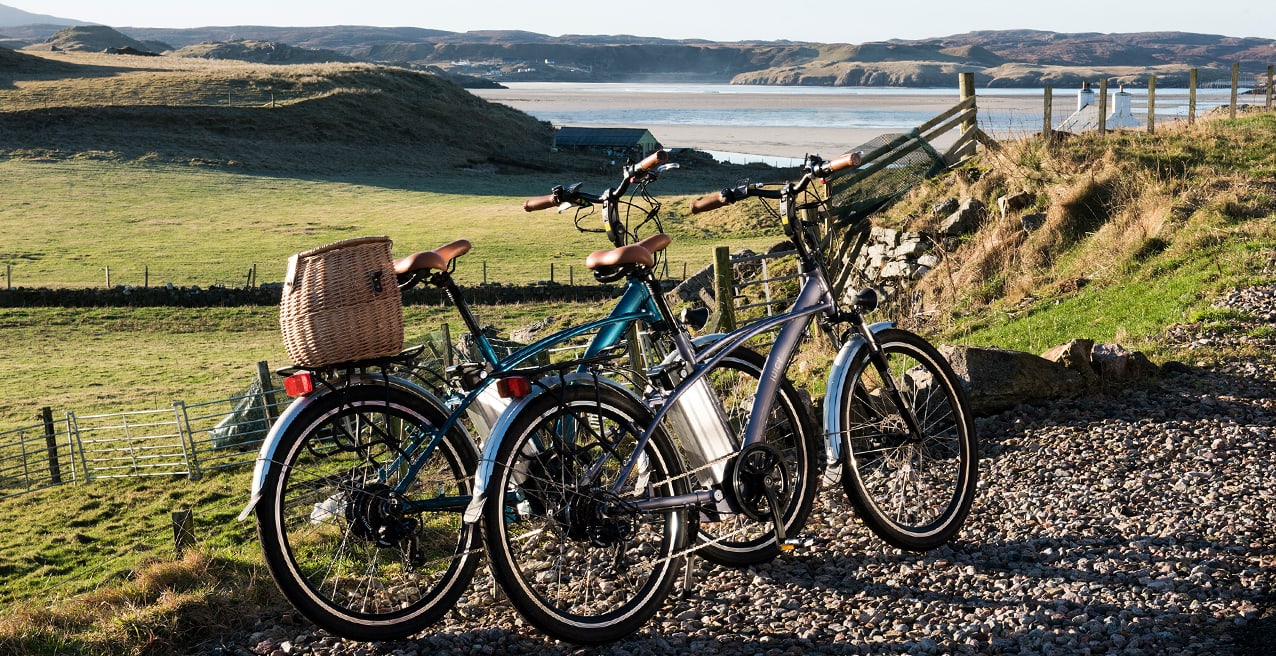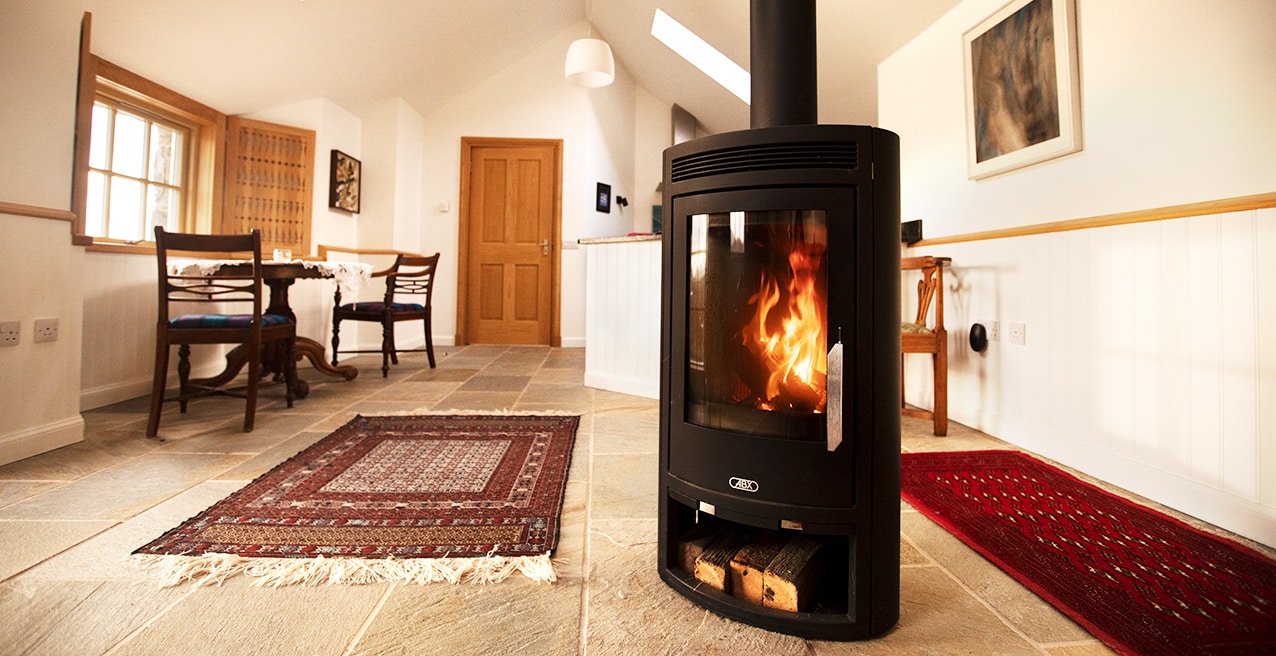 Slate floor, oak finishings, half paneled with timber V boarding.
Underfloor heating.
There is a wood burning stove which is guaranteed to overheat the house quick-time unless there is a power cut or it's a January gale. But, if you're determined, we'll supply wood and peat.
Georgian and Victorian furniture so we do ask guest to take care not to damage the surfaces. The rugs are Afghan collected by our daughter during her time there.
Unlimited broadband WiFi. Television can be set up if requested with internet access and freesat connections. Internet radio. No mobile signal at house.
Stressless reclining chair with footstool.
Sofa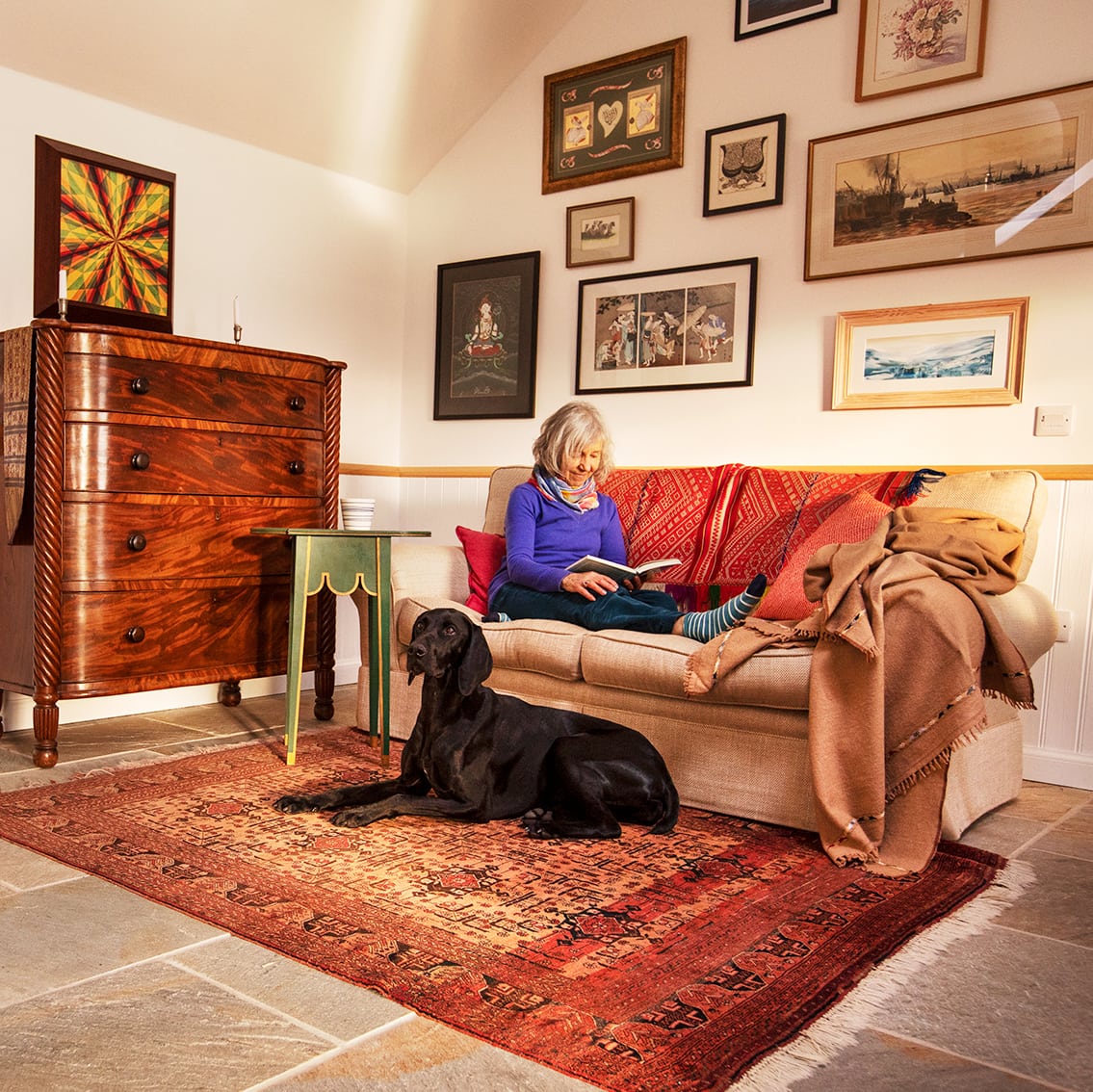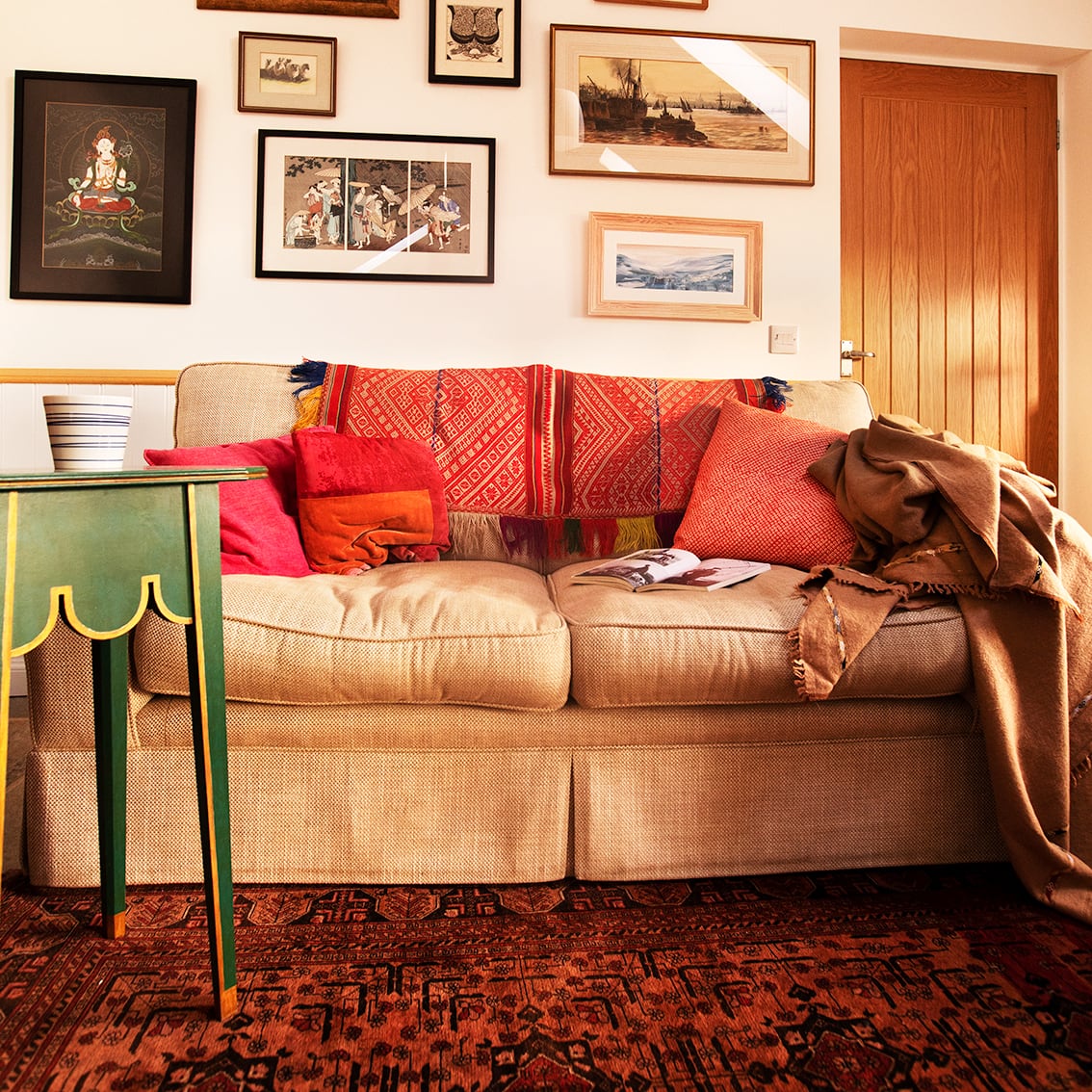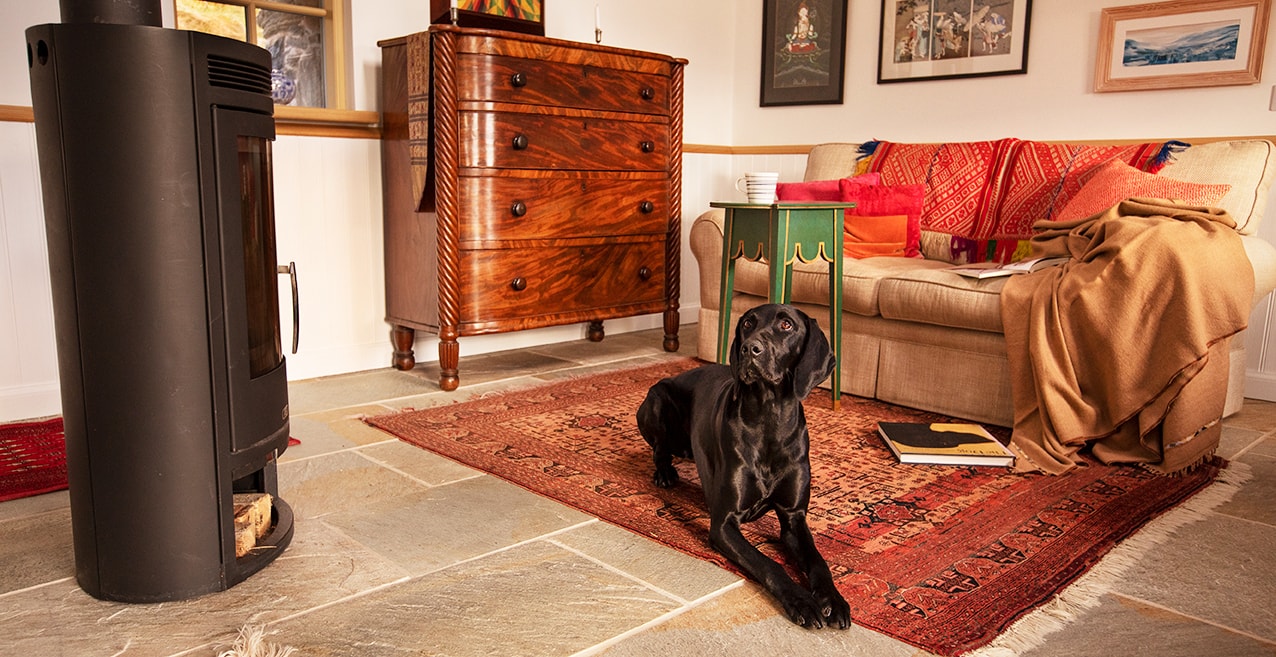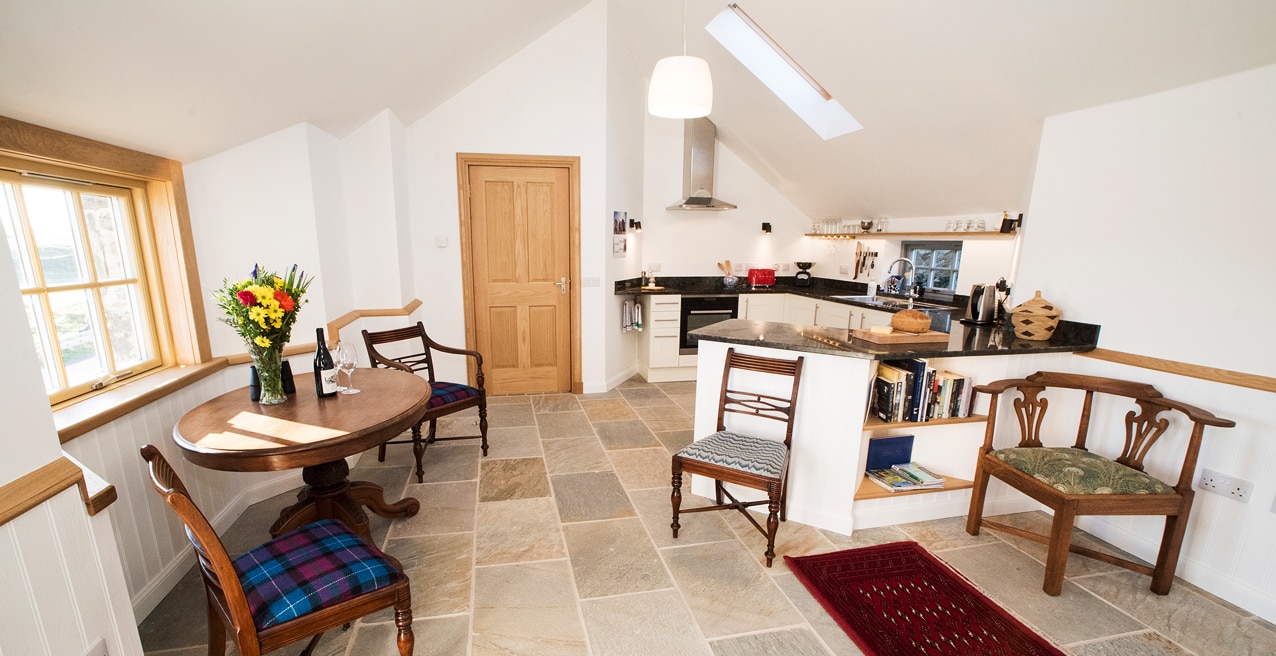 The kitchen has granite worktops, induction hob, electric oven/grill, toaster, kettle, fridge, ice maker, and microwave.
Crockery is bone china.
Knives that are meant to be sharp will be.
No freezer, dishwasher, washing machine or tumble drier. Who wants to spend time washing clothes on holiday when there is a perfectly good laundry service provided by the Uig Community Shop?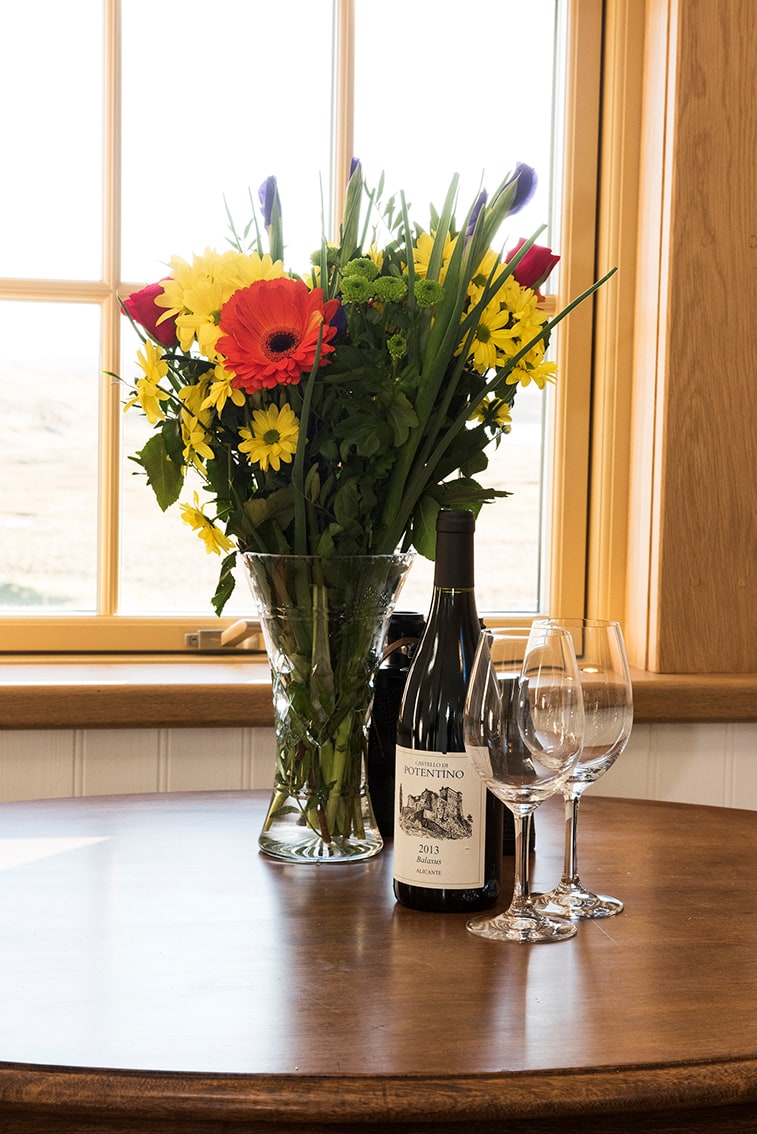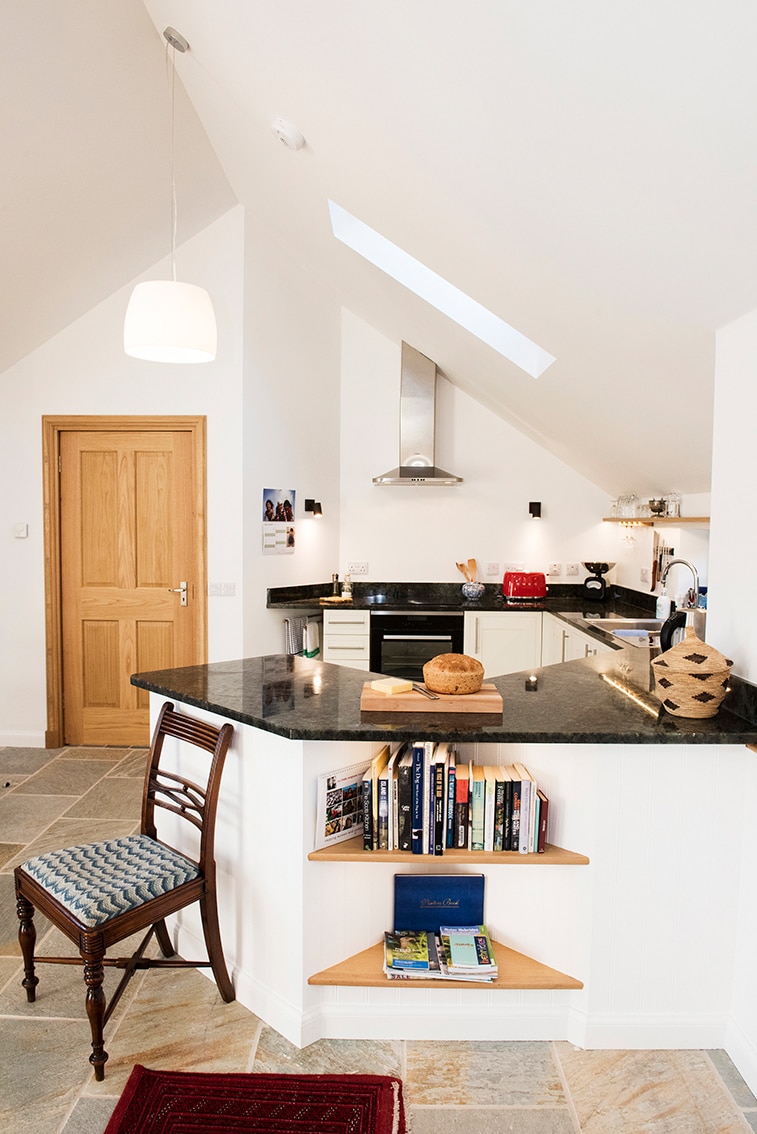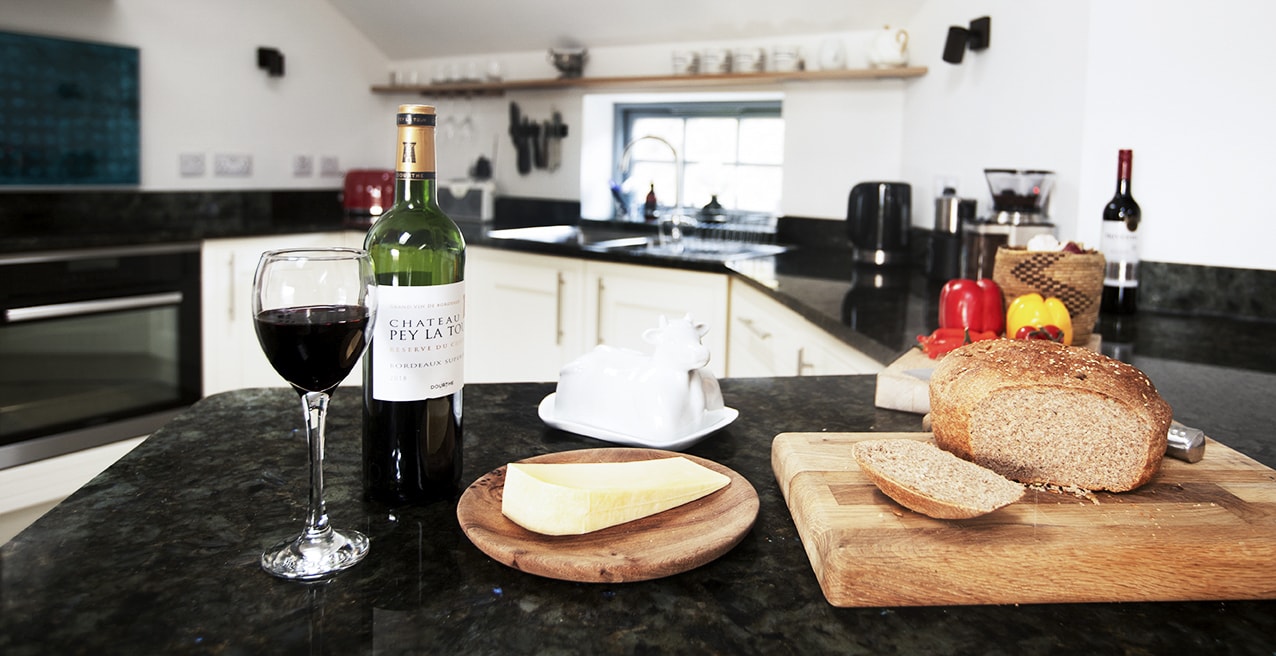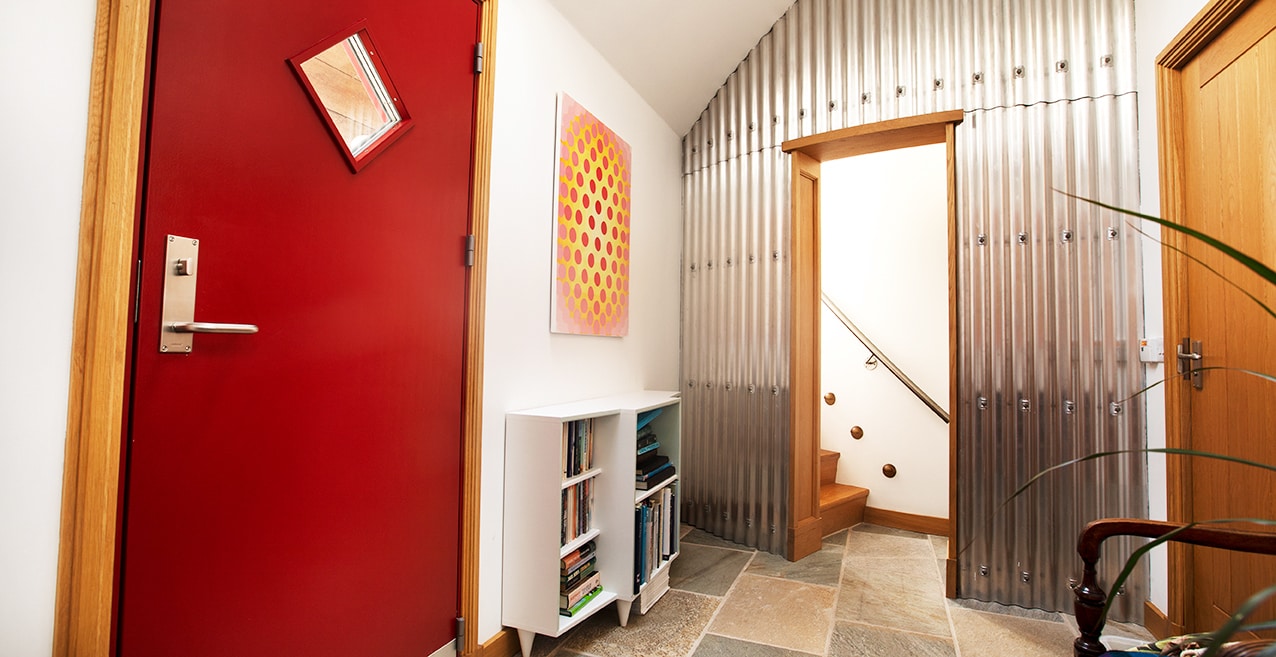 Slate floor, underfloor heating.
Library of books selected especially – not the usual crummy collection of leftovers. We do ask to be advised if you'd like to take books with you so that we can arrange 'like for like' replacements.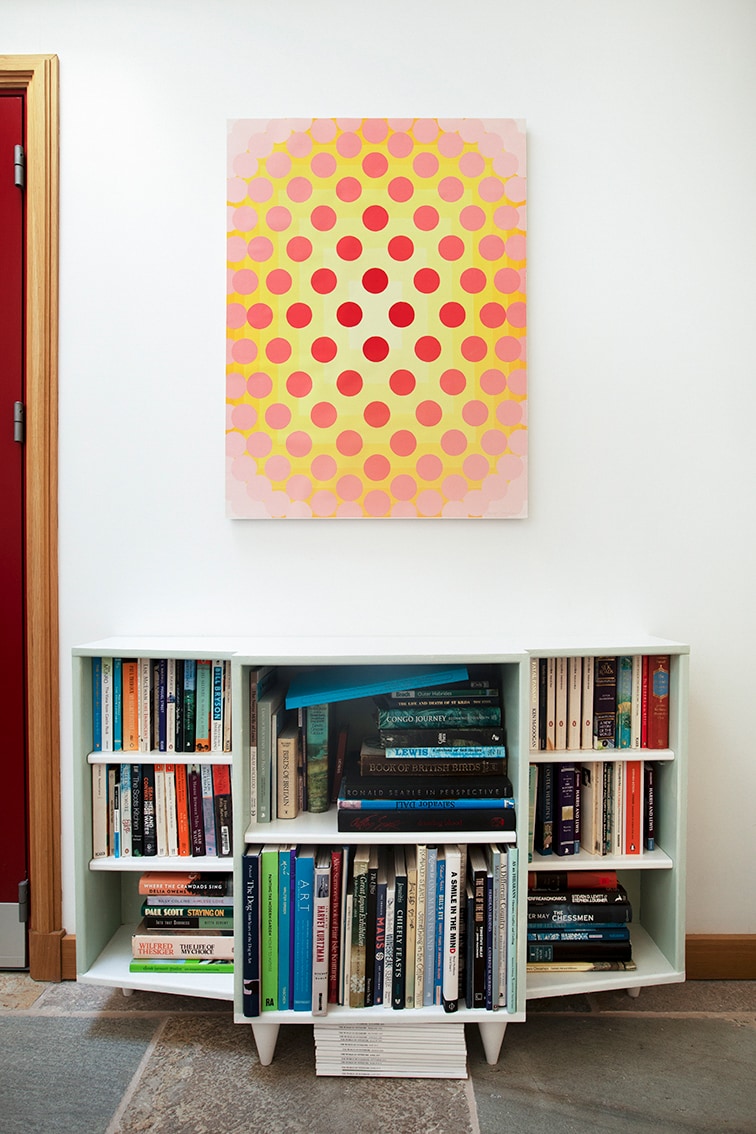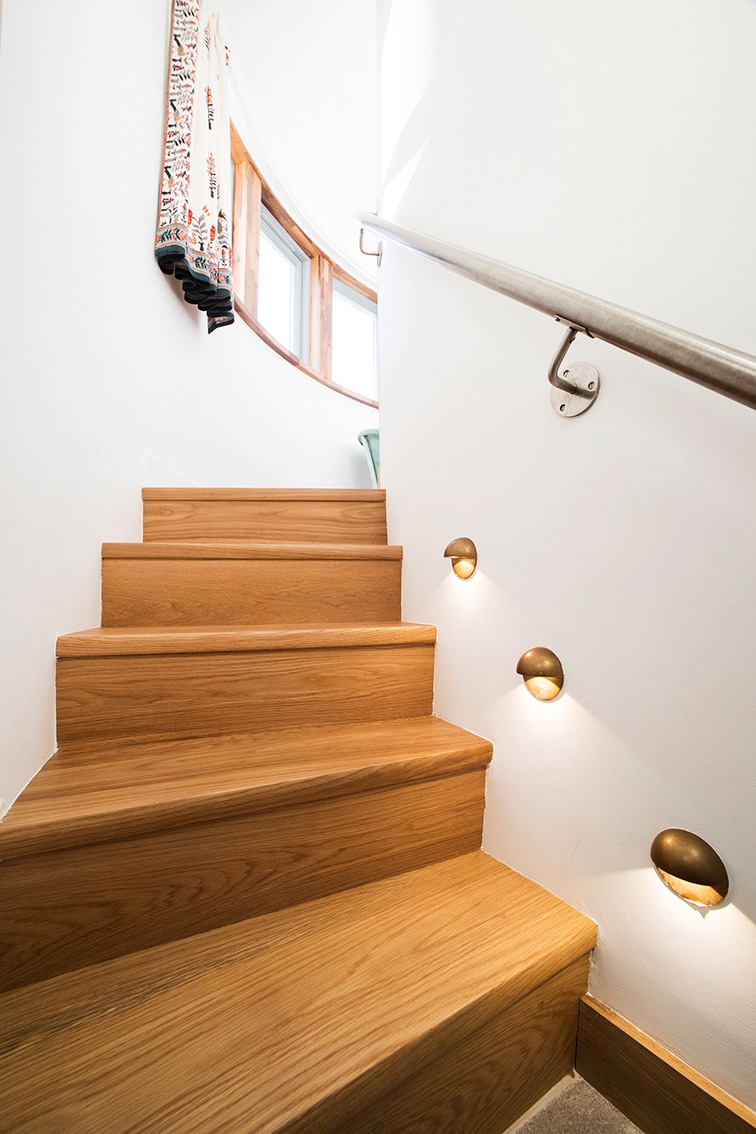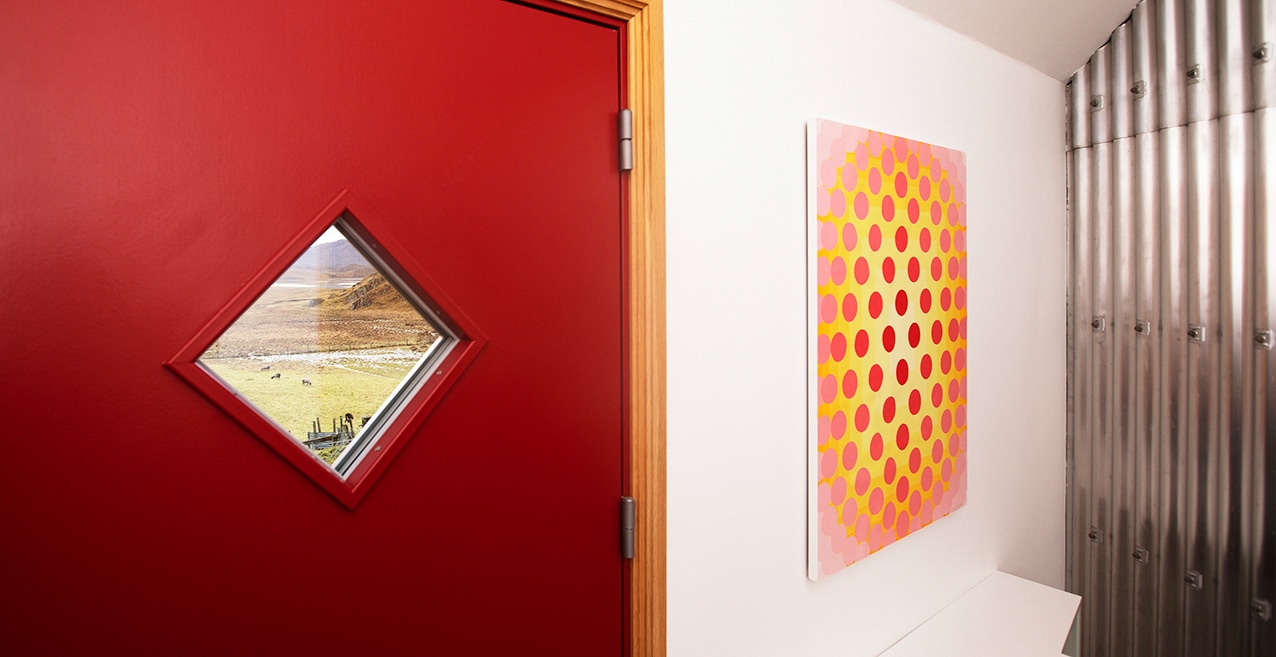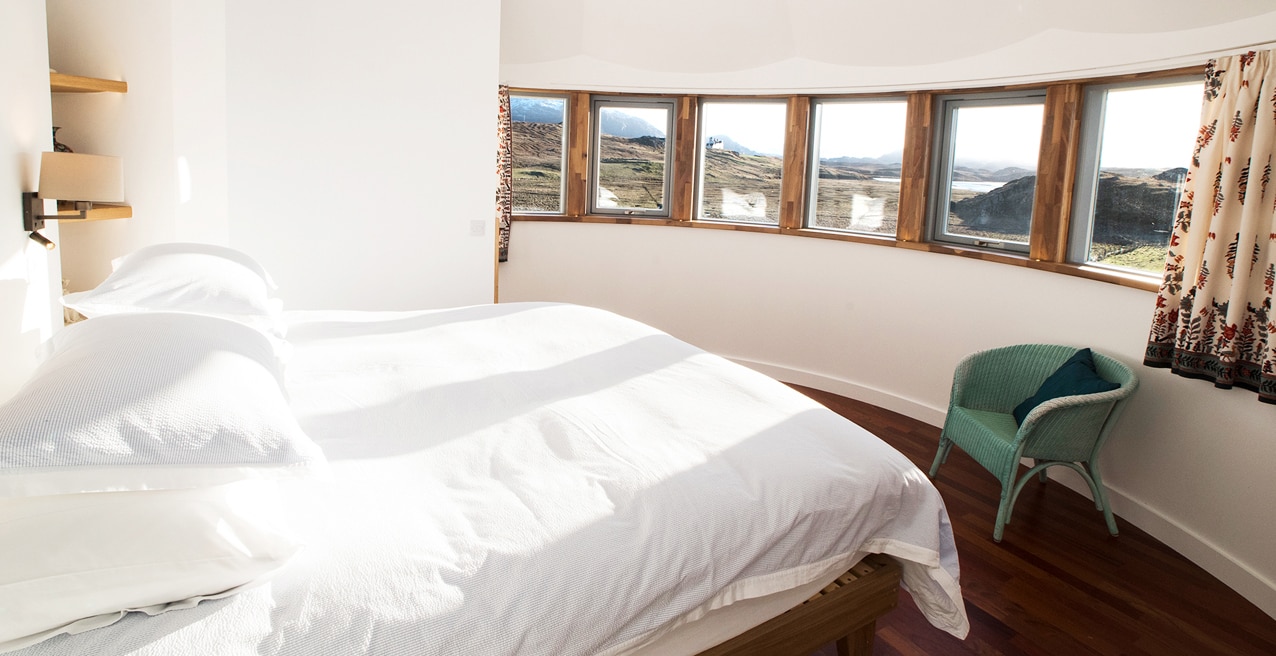 Accessed by a short flight of spiral steps to allow privacy, this is the only room which doesn't follow the original byre plan. The front wall is semi-circular with a row of 6 windows allowing a panorama of the beach and mountains upon waking, assuming it's not raining too heavily. The conical ceiling is open to roof level.
The bed(s) can be configured as a superking double or a twin. The high spec hypnos mattress and down topper is our way of ensuring you have a good nights sleep. Linen is all high quality. Pillows and bedding are down.
Dressing gowns and hair-drier supplied.
There is no heating in the bedroom but, hey, you're in bed there anyway and there's no door between the bedroom and the hall so heat leaks up the stairs to take the chill off.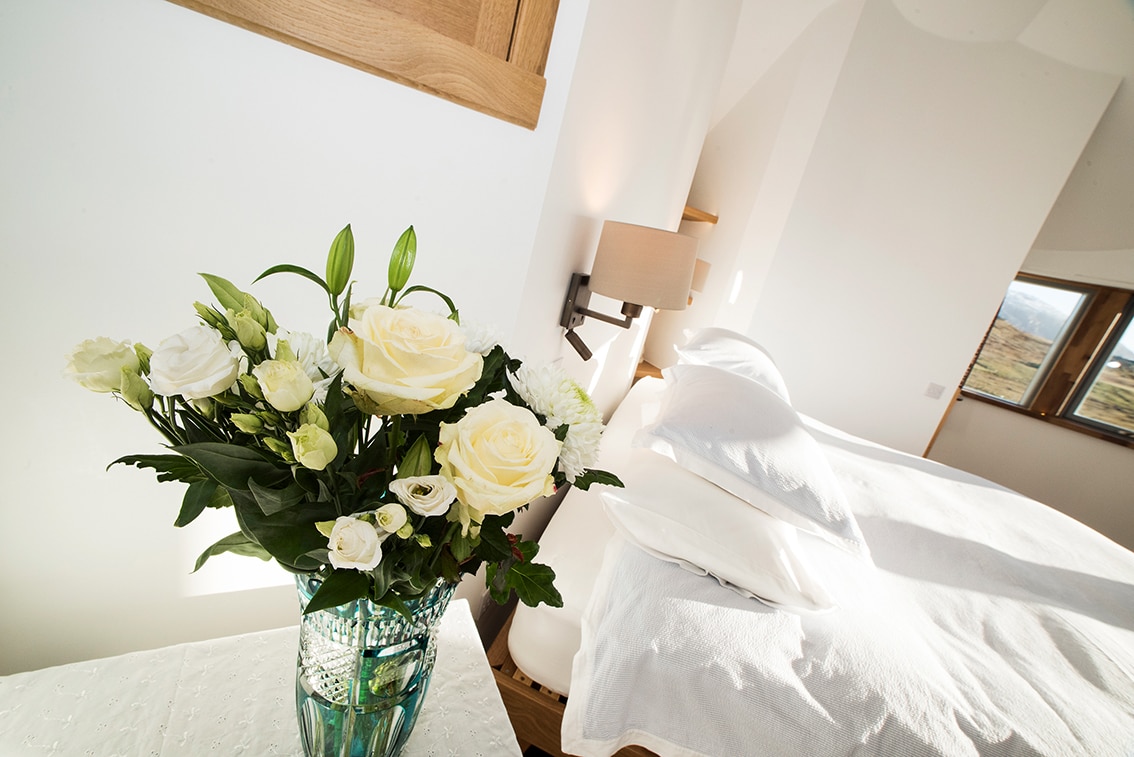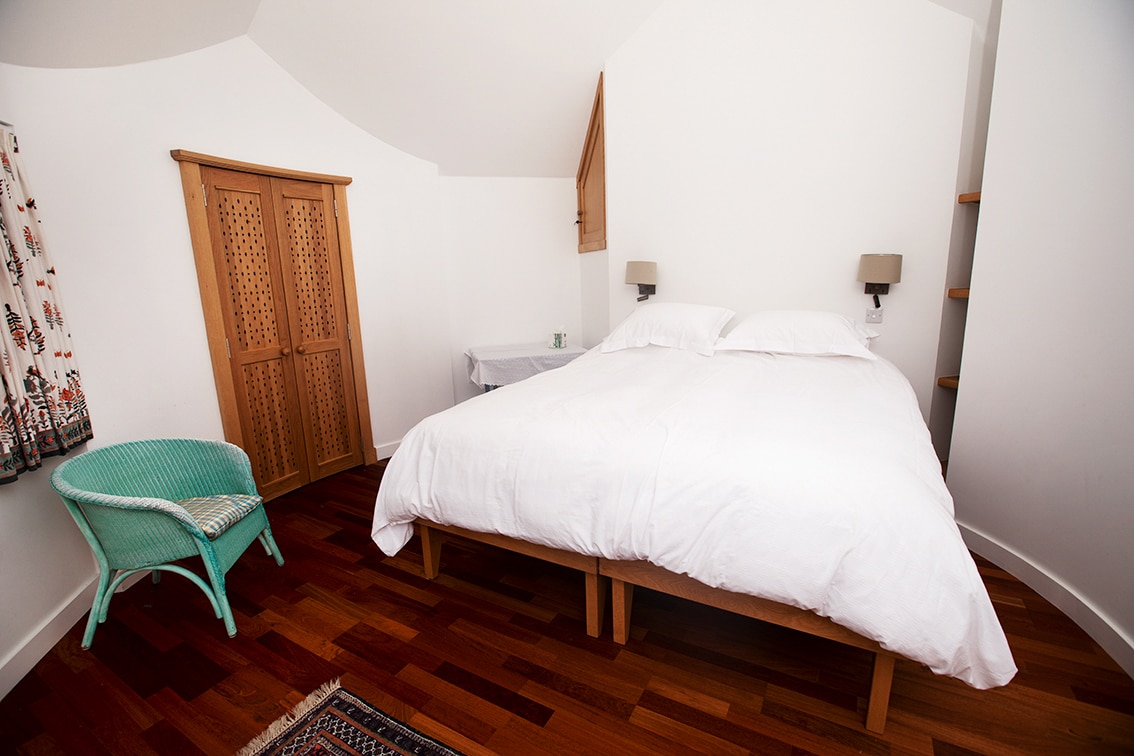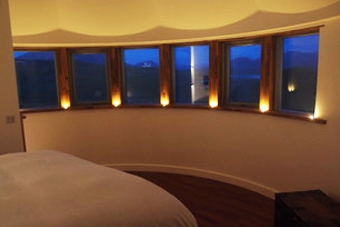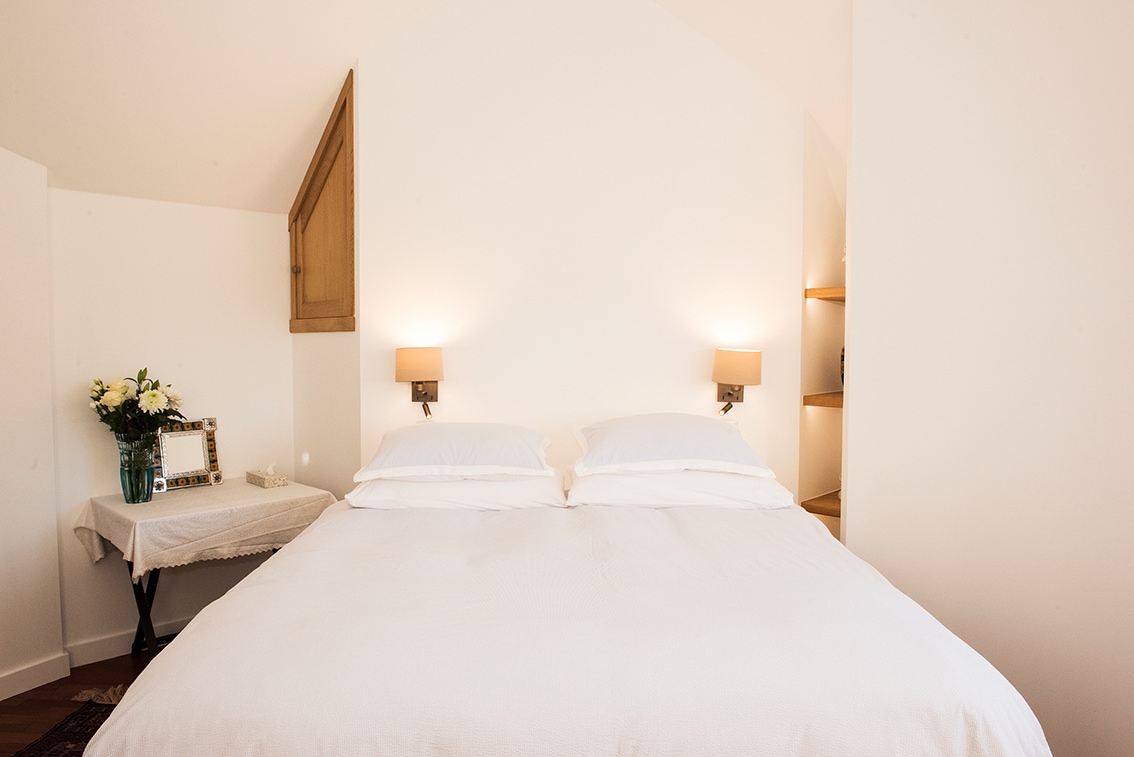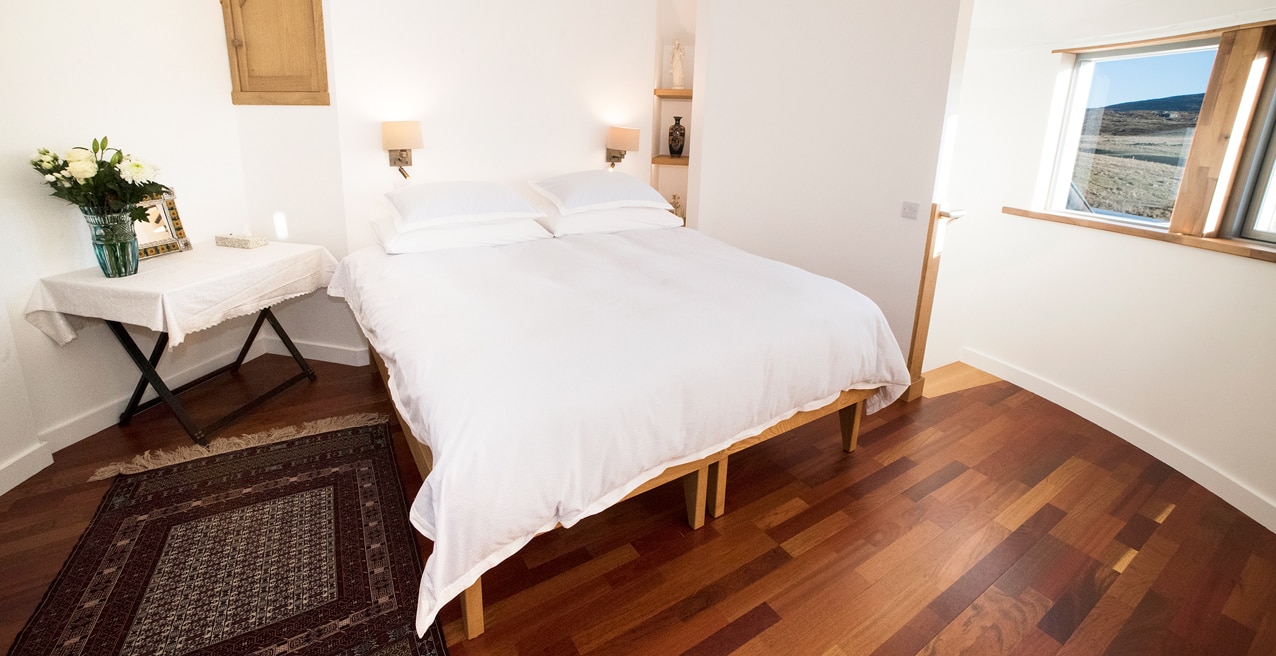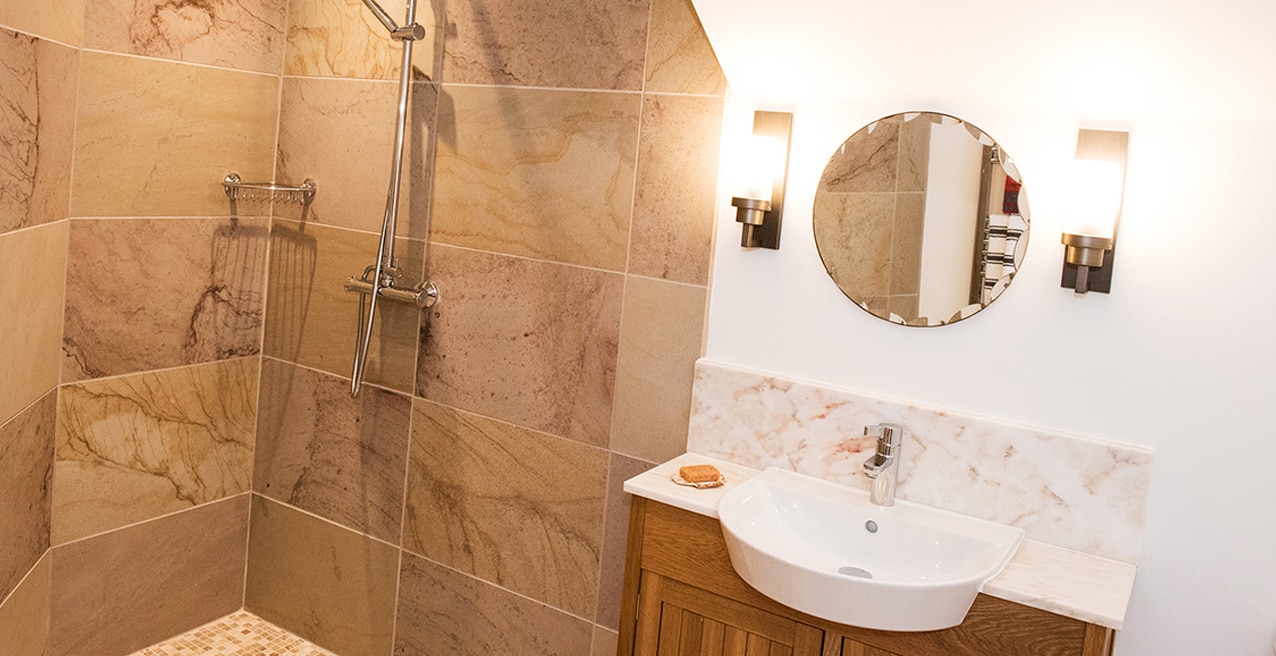 Incorporates a wet room shower. Shower stool. Ample hot water. Quartsite wall tiles, marble surround, travertine flooring, underfloor heating.
Electric towel rail.
Extractor fan.
Towels and soaps provided.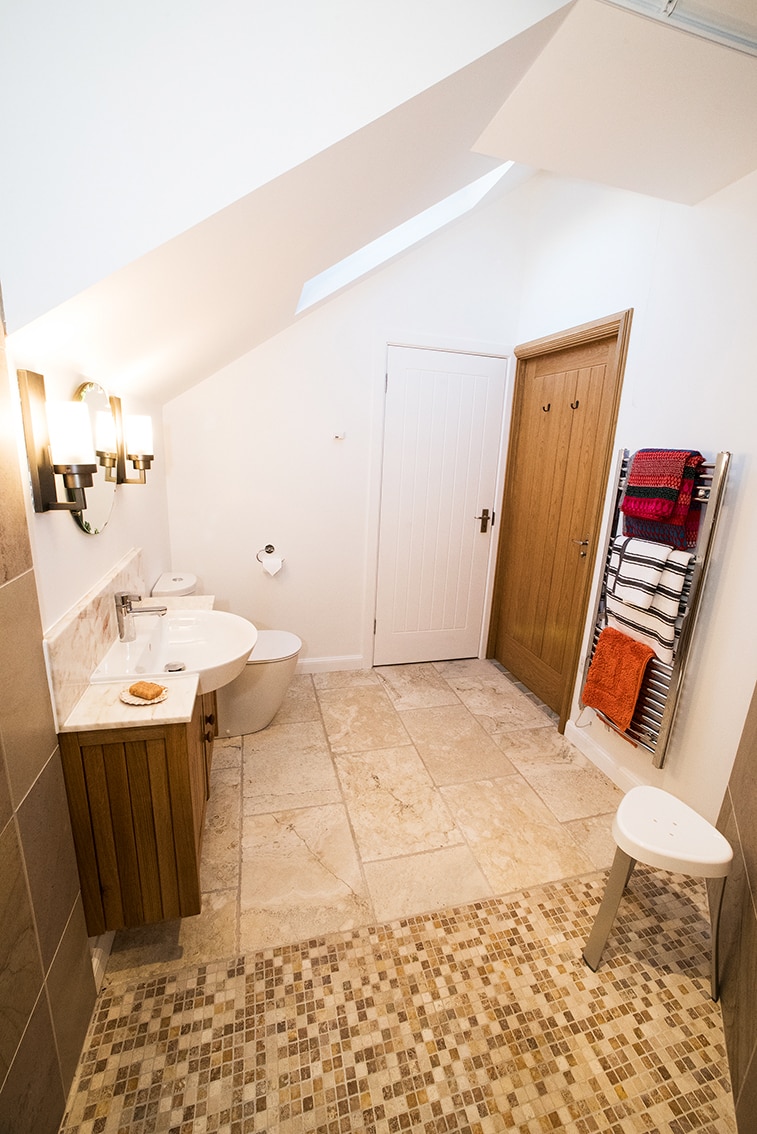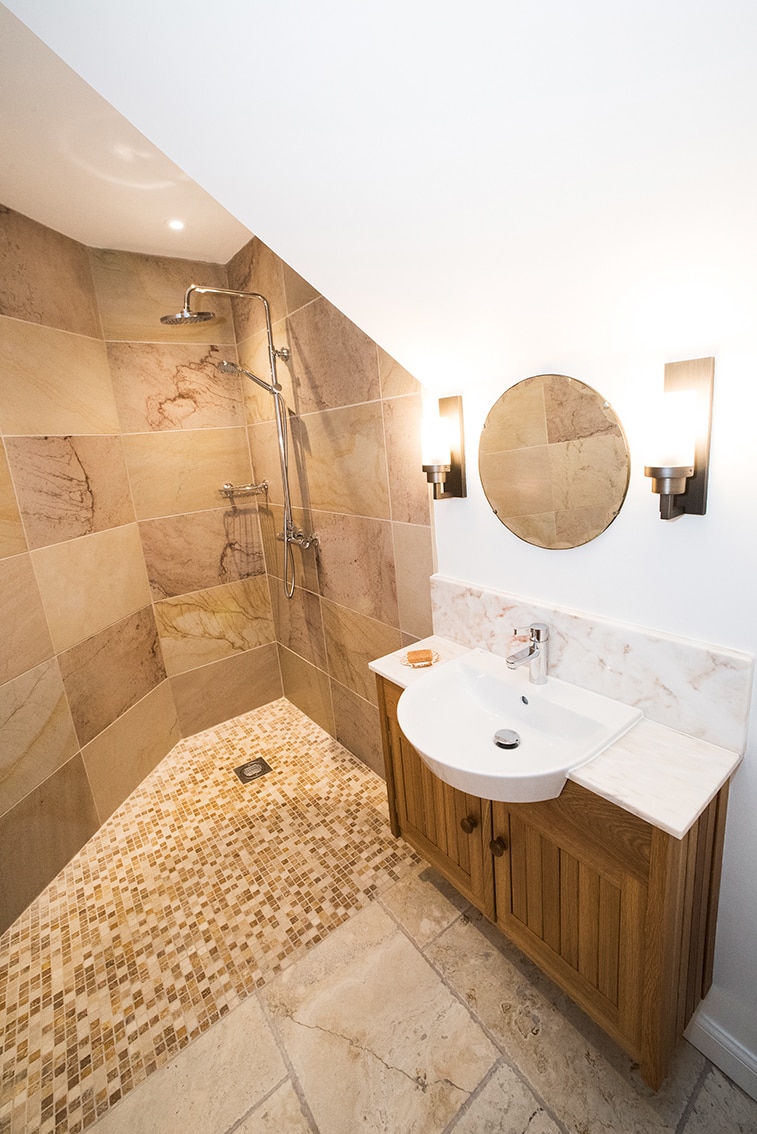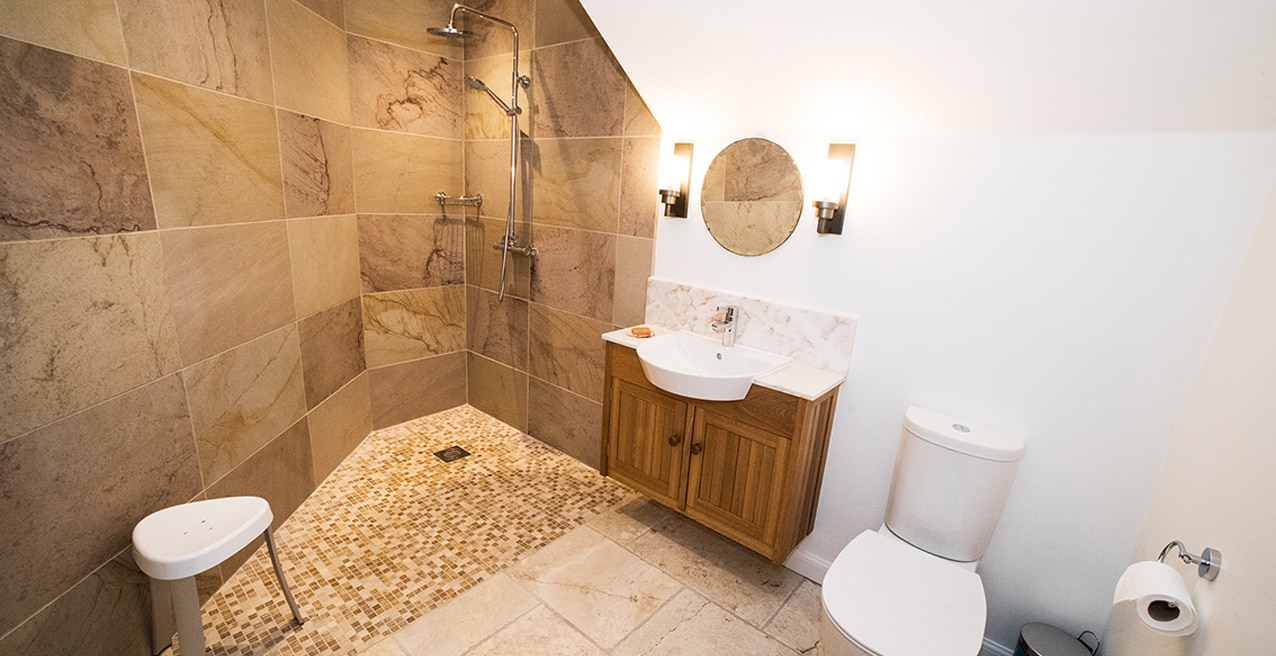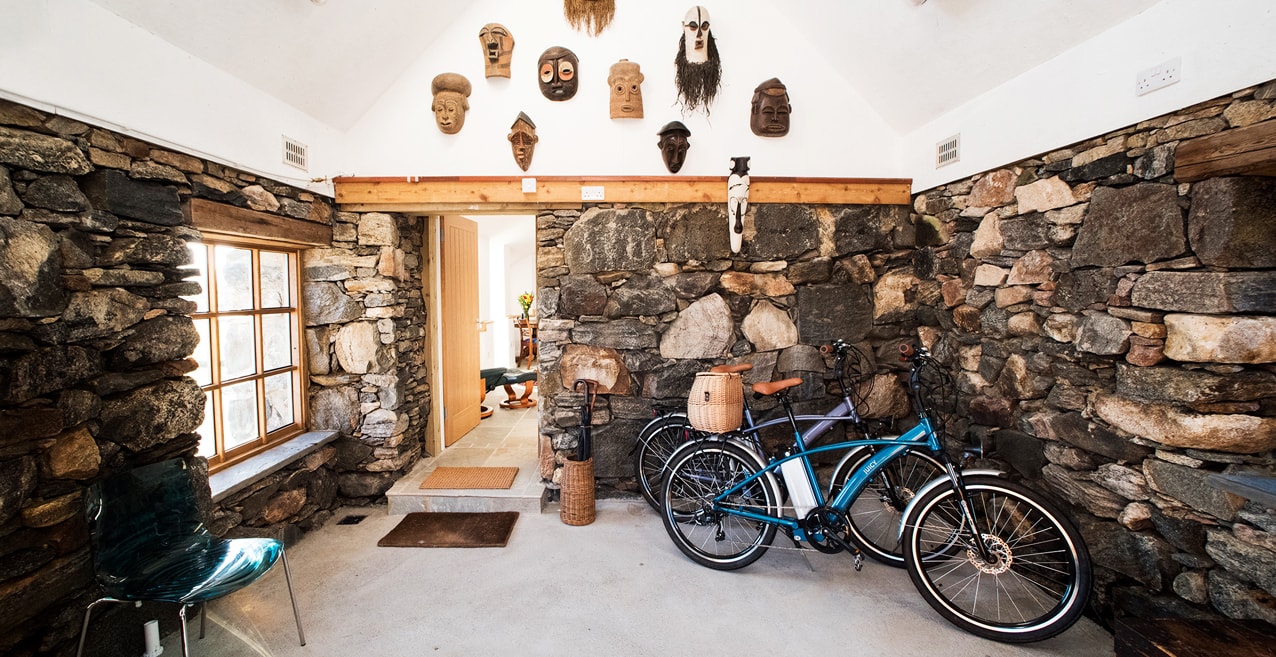 With Hebridean weather a prime requirement, often overlooked is the provision of adequate space to transition between the outdoors and inside.
This large room serves this function, storage for the electric bikes and outdoor equipment supplied, and more.
Unheated, not insulated to the standards of the rest of the house, it has ample hanging space for coats and room for outdoor boots. There is a drying line, an electrically heated drying rack.
It doubles as a studio for those so inclined. Because of its 'messy' nature, oil painting is only allowed following a grueling interview.
Hanging on an internal wall is our collection of Congolese wooden masks acquired when our daughter was undertaking research in Uganda.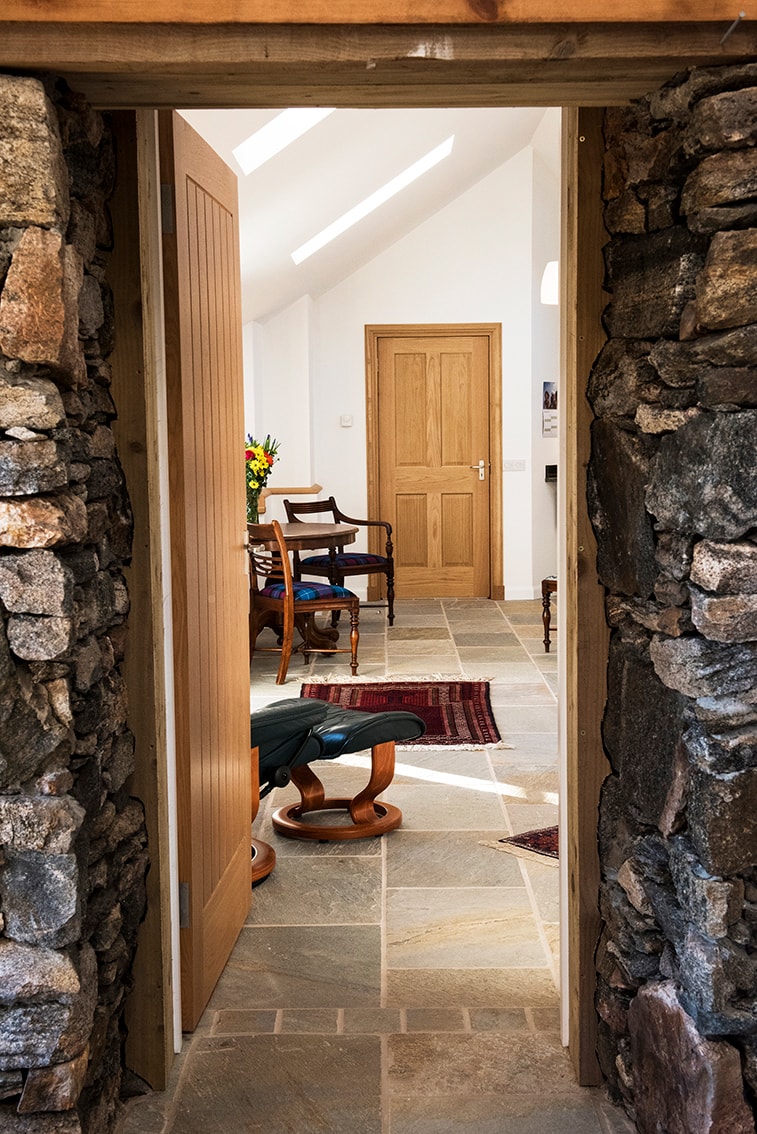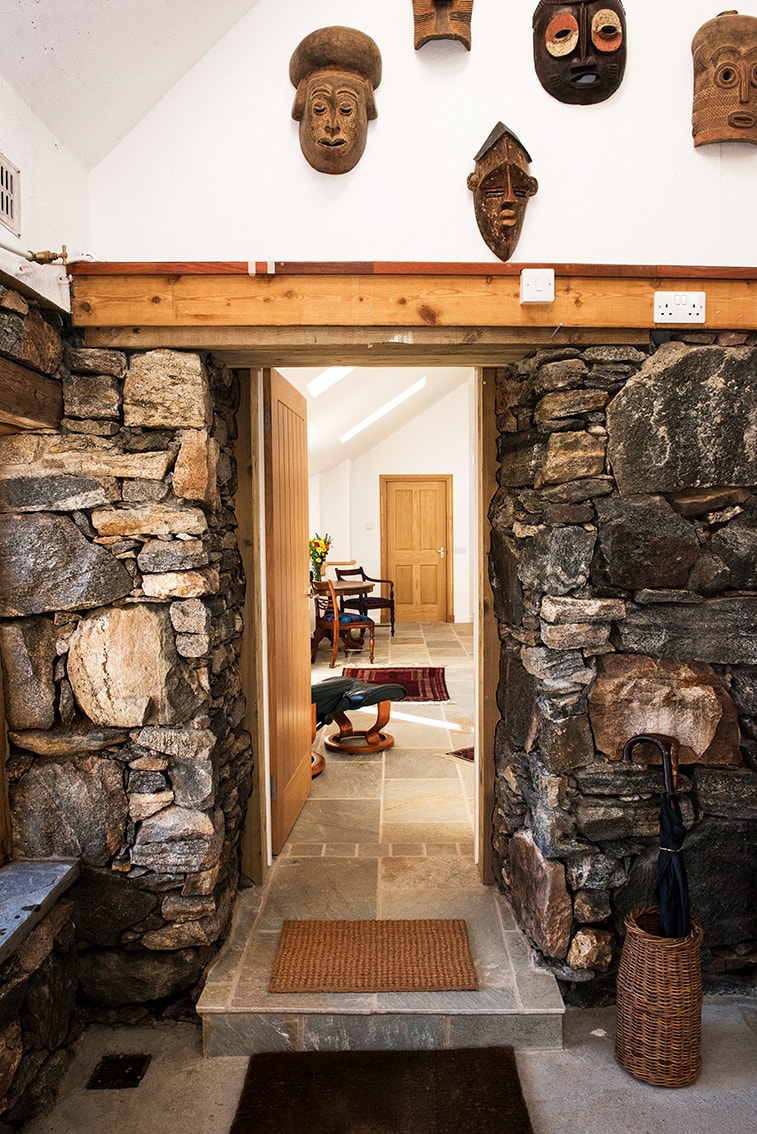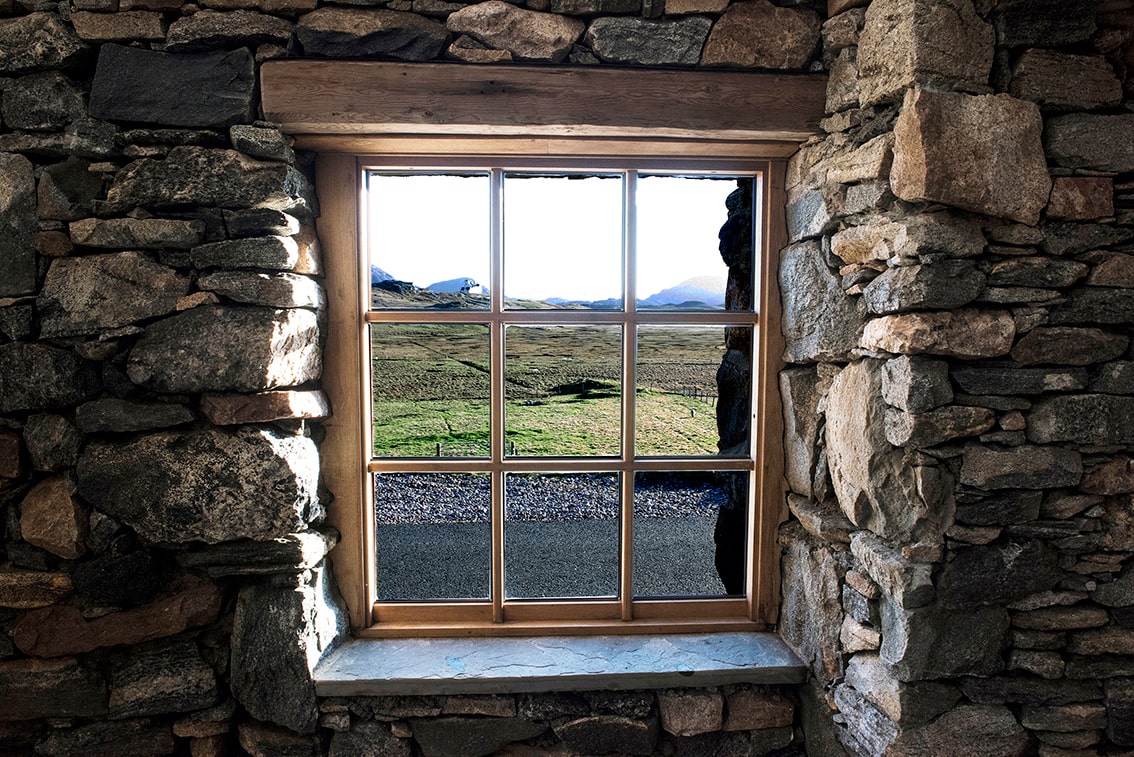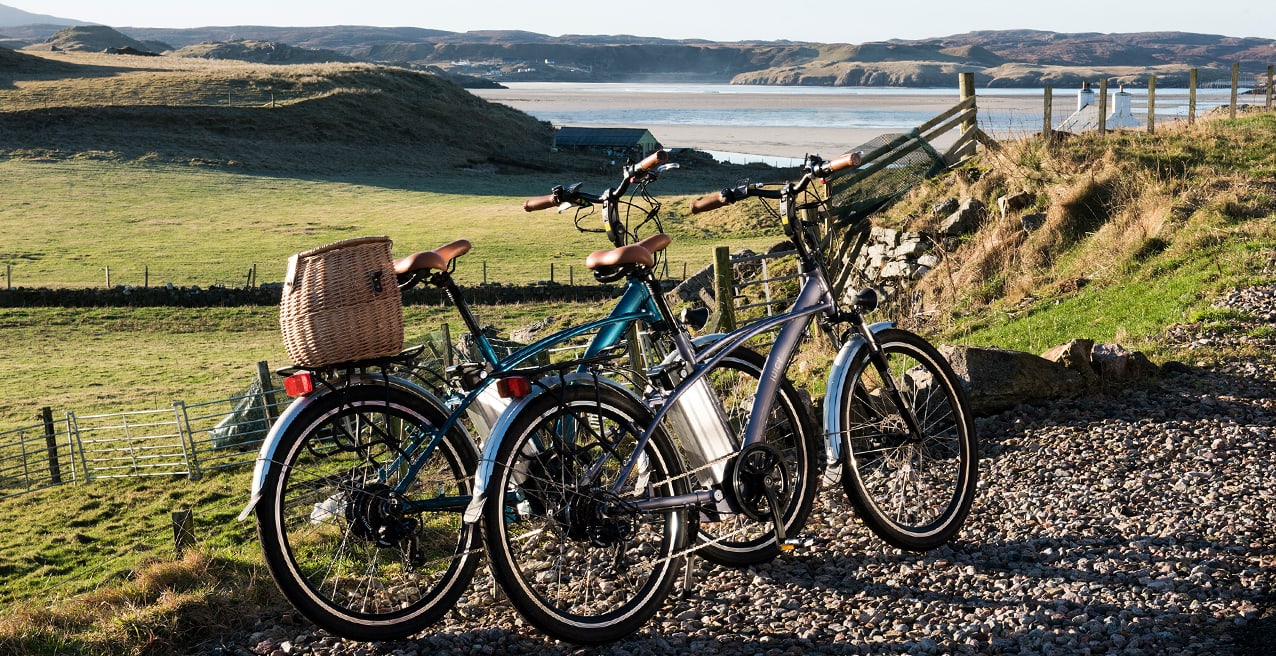 Electric Bikes – two 'Juicy' electric bikes with bike racks and lights. Great for Lewis where there are plenty of hills and frequent headwinds. Helmets supplied. The bikes have 6 gears and run on 'pedal assist' whereby the electric motor reduces the effort needed to pedal. There are 3 levels of assistance and on maximum assist, you really aren't putting in much effort on the flat and not so much going up a hill slowly in a low gear. The battery range is heavily dependent on the level of assistance you select but at maximum, you could cycle to the far end of Uig and back on a full charge.
Surfboards – two bodyboards supplied.
Beach towels provided.