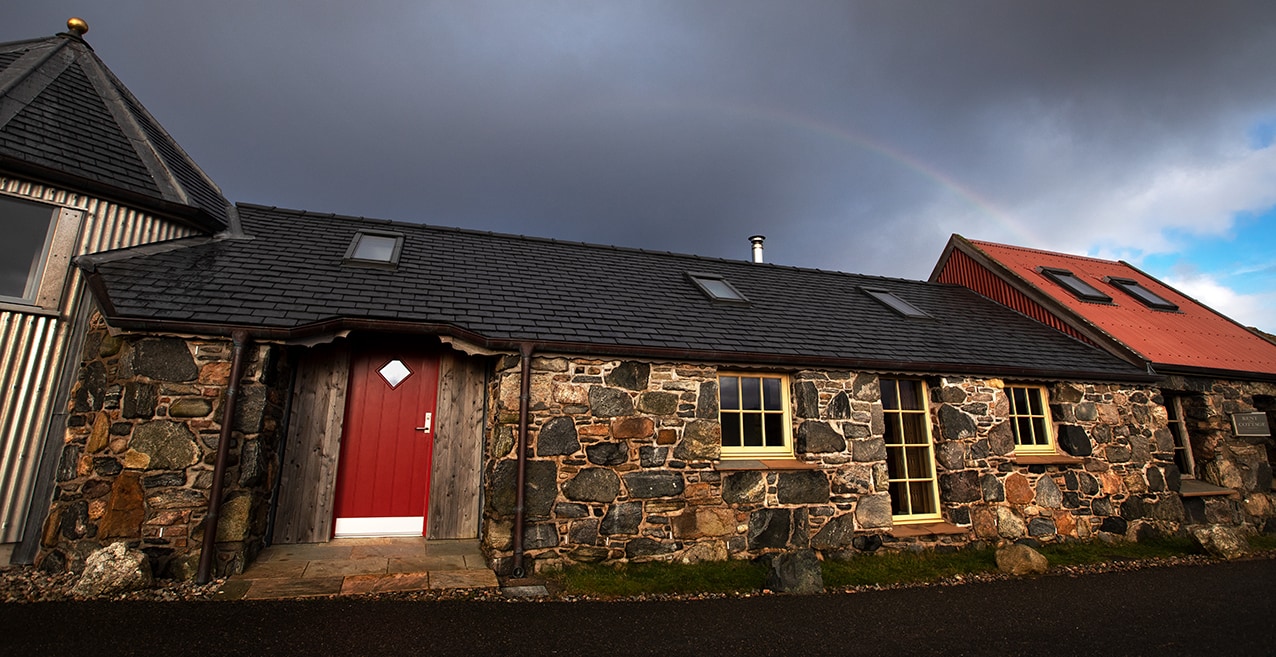 You can read all of our reviews from 2022 here. Get an idea of the first hand experience of staying at the Byre, and also find a few useful travellers tips.
Guest from Isle of South Uist
11th November 2022
5 out of 5:
A lovely location with stunning views of Uig sands. The Byre is sumptuously appointed with high quality fittings and fixtures. Moreover it is spacious and comfortable.
Tips for other travellers:
The restaurant at Uig Sands has a stunning location, excellent food and service. However, do not overlook the Edge Cafe on Gallan Head, a completely different experience, but the food is wonderful. The epitomy of slow food. Things to do - walk, relax and enjoy the landscape, culture and wildlife. All the ingredients for a perfect holiday.
Guest from Cheadle Hulme
25th September 2022
5 out of 5:
Beautifully designed and fantastically appointed cottage, with an amazing, panoramic bedroom view. At the heart of a remote and inspiring area - beaches, cliffs and landscape. Walking distance to the only shop (and petrol station!) for miles around. We loved our time here, doing very little other than absorbing ourselves in the landscape.
Guest from Linlithgow
3rd September 2022
5 out of 5:
The accommodation is delightful and extremely comfortable. This year is our third visit, we enjoy spending time here.
Tips for other travellers:
The island is full of things to do. One of our favourite is simply walking on Uig beach.
Guest from Stonehaven
3rd August 2022
5 out of 5:
This will be the second time we've stayed at the Byre and, really, there is no better a house in no better a location! It's truly unique, thought fully equipped with everything you could possibly need and in the most beautiful location - it really couldn't get any better.
Tips for other travellers:
Overlooks and two minute walk to the beautiful Uig sands which changes constantly before your very eyes and never fails to amaze. Within short walking distance to the great community shop (which has EVERYTHING!) and also to the amazing Uig Sands restaurant for a splurge meal.
Guest from Norwich
23rd July 2022
5 out of 5:
The Byre was extremely comfortable and well-equipped as before. One tiny suggestion - it would be helpful to have some serving spoons.
Guest from Stoke on Trent
18th June 2022
5 out of 5:
The vision of the renovation of the property is inspiring. The profit made going to a sad but extremely worthwhile cause. It is a beautiful property in an amazing location and can't wait to return.
Tips for other travellers:
It is truly difficult to pull yourself away from the windows to be fair! We walked every day Barr two and saw wildlife too numerous to list. Uig Sands restaurant is truly outstanding- amazing g views and food. We walked to Gallan Head - a must - I can only liken it to an apocalypse with a sign for a cafe - we walked on thinking it wouldn't be open.... it was. What an experience it was!!! Finally made the nicest soup I have ever had, fresh to order while we were there!! An amazingly eccentric place. The weather was shocking, the crossings rough, but one of the best holidays ever
Guest
4th June 2022
5 out of 5:
The Byre was brilliant. Top notch. With the Sands restaurant and the Uig Community Shop just up the road, the Byre is extremely well located.
Guest
24th May 2022
5 out of 5:
A wonderful cottage in a truly amazing setting. Tranquil and restful this is a unique place to stay, with a landscape like no other to explore. Local amenities are close at hand and the welcome we received was so warm and friendly. I really can't find the words to do it justice.
Guest
20th May 2022
5 out of 5:
Perfect place, perfect accommodation. An unforgettable holiday.
Guest from Glasgow
24th April 2022
5 out of 5:
Lorna & John made us very welcomed to the byre. The byre is situated on a very quiet lane very near an inlet of which will see high & low tides daily, it is spectacular. You will see sheep and lambs grazing, deer, many birds, gorgeous horizons and sunsets, and the most gorgeous stars when it is dark. The byre itself has absolutely everything you need. The bed the very comfortable, the layout is perfect, cozy and very charming. The details in both beauty and comfort are first rate. I recommend that everyone try the electric bikes available, it is a spectacular way to see the island with ease. We used them every day! Ask about the bothy that they have and go take a look, you will not regret it! It's a wee wander ( 10 min. walk) but something you must see to believe. Gorgeous byre and lovely people.
Tips for other travellers:
We visited the byre in April of 2022. The weather was absolutely gorgeous. Prepare for wind. We had light windbreakers. We really suggest using the electric bikes available, we used them every day (one of us has not ridden a bike in decades) it was a terrific and easy way to see the islands beauty. We ate lunch in the community centre, and at the raider trailer situated very near the byre. The local shop directly across the street closes at 5 but has a plethora of food items! We packed lunches and popped them in the boot or the basket and went off the roads for the most beautiful scenic lunches, and we had conversations with most people we met! Lovely folks on the island. Wake yourselves up at 2-4 am to see the absolutely exquisite stars! It's magical. Also, I used the binoculars every day to look out into every direction. Go to cliff beach and kneep, you will see the most spectacular beaches, mealasta for rugged views and a must in my book is the bothy that Lorna and John have in mangersta, spectacular!
Guest from Inverurie
7th February 2022
5 out of 5:
A lovely, comfortable and characterful holiday cottage with all the facilities you would need.
Tips for other travellers:
Beautiful beaches, walks,and interesting history and many eagles